Why did I choose H-SC?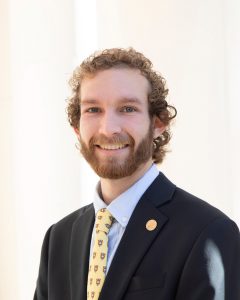 When I took a tour of Hampden-Sydney during my senior year of high school, I got the opportunity to attend some of the classes that I was interested in taking. Since I graduated from a small private school, graduating with only 38 other students, I recognized that Hampden-Sydney would be able to provide me with a similar educational experience. For example, the small class sizes and close interactions that the students were able to have with the professors of the classes I attended resonated with me in a way that a larger state school did not.
With what activities have you been most engaged on campus?
In addition to serving as a Wilson Leadership Fellow, I am a tour guide for the Garnet and Grey Society, a peer advisor for a freshman advisory group, the president of the Mentoring Club, the chairman of the Student Court, a psychology tutor, the editor for the psychology section of the Journal of Sciences, an orientation and service leader, and a member of Omicron Delta Kappa and Psi Chi.
What have you enjoyed most about the Wilson Leadership Fellows Program?
The most meaningful component of my experience as a Wilson Leadership Fellow has definitely been the student-alumni pairings that the Fellows receive during their third year of the program. I was fortunate enough to be paired with Dave Wilson '63, who has continuously provided me with knowledge about what to expect and how to navigate my life succeeding Hampden-Sydney. Not only has Dave taught me to pursue careers that I find particularly meaningful, but he has always made an effort to help me in any way possible.
How has the WLFP helped you grow as a person, student, and leader?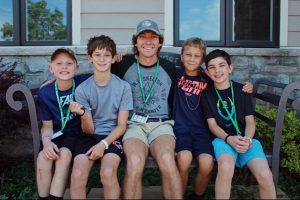 As a Wilson Fellow with a minor in Leadership in the Public Interest, examining leadership theory has contributed to my growth as a person, student, and leader. For instance, it is easy to fall victim to the misconception that leaders are born rather than created through continuous practice and implementation. By learning of this fallacy early in my academic career, I have taken risks and opportunities that I likely would not have otherwise. In doing so, I have been in numerous leadership positions that have required me to examine my own leadership style and even ethical judgements, something that is rare among most college students.
What are your current plans after Hampden-Sydney?
The million-dollar question that seems to frequently arise. I have several options that I am still attempting to decipher before graduation, but in an ideal world, my plans would include attending graduate school at The College of William and Mary for school psychology and beginning my career thereafter. I have always had a passion for working with children and adolescents, and as a psychology major, I think this route would provide me with a truly meaningful career that also integrates my passion for psychological research.
---